My Goushill ancestors
GENERATION 1
01. Sir Nicholas Goushill was born in abt. 1335 and died in 1393.
GENERATION 2
02. Sir Robert Goushill

, son of Nicholas born in 1377 in Hoveringham, Nottinghamshire, England. He married Elizabeth FitzAlan in abt. 1401, the daughter of Richard FitzAlan, Earl of Arundel and Elizabeth De Bohun. Robert was knighted by King Henry IV at the Battle of Shrewsbury on July 21, 1403. Badly wounded in the side, he was found by his servant on the eve of the battle. Goushill asked that his armor be removed and a note sent to his wife Elizabeth in case of his death. The servant then stabbed and murdered Sir Robert Goushill and made off with his purse and ring. Another wounded man lying nearby recognized the servant, and he was later caught and hanged for the crime. The children of Robert and Elizabeth are:

| | |
| --- | --- |
| 1 | Robert Goushill (abt 1401 - abt 1415) |
| 2 | Elizabeth Goushill (abt 1402 - 1431) Married Robert Wingfield (1403-1454) in abt. 1433. They had 13 children. |
| 3 | Joan Goushill (See Below) |
Tomb of Robert Goushill & Elizabeth Fitz-Alan in Hoveringham, Nottinghamshire, England (link)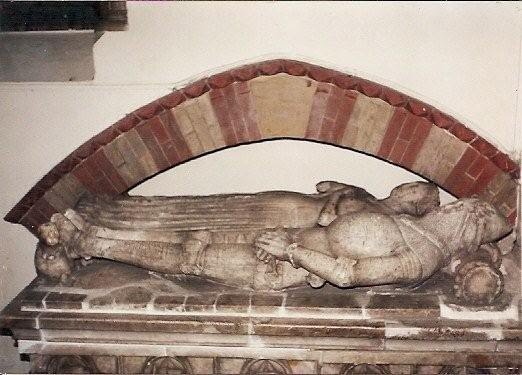 GENERATION 3
03. Joan Goushill

, daughter of Robert and Elizabeth was born in 1407. She married Sir Thomas Stanley. Joan died in 1460. I descend from their daughter Catherine Stanley who married John Savage.
This page was created on 01/29/14 and last updated on 10/02/16