My Hawk ancestors
GENERATION 1
01. Hans Jerg Hag (also known as Johann George Haag) was born about 1707. He married Catherina. Hans and family arrived in Philadelphia on September 1748 aboard the ship Hampshire. His age on arrival was recorded as 41 and he was accompanied by his wife and 6 children, none of them named. The ship listed the spelling as "Yerich Hack", but George could write and signed both the Oath of Allegiance and the Oath of Abjuration as "Hans Jerg Hag". George states that he came down the river Rhine, which borders on the Palatinate and Badan- Wurttenberg areas of Germany. Recent discoveries have shown at least 4 children of Hans who came over with him from Reutlingen, Wurttemburg, Germany. Source: Kenneth Hawk Slaker
GENERATION 2
02. Conrad Hawk, son of Hans and Catherina was born in 1741 in Reutlingen, Wurttemburg, Germany. While still a child, he came to America with his father in 1748. He married his wife Sarah Catherine Williams in about 1759. With the growth of the families and the shrinkage of available land in Lehigh Township, word of the "New Purchase" by Penn, located west of the Allegheny mountains, inspired the younger family members to seek this new land. Conrad, along with his brother-in-law, arrived at the land office to file their claim in March 1770. Conrad's claim was on Brush Creek, Hempfield Township, Cumberland County. He constructed a cabin and returned to Lehigh Township. In the spring of 1771, Conrad and Sarah, their children, along with George and Catherine Haag, departed Northampton County for this new land. In the early spring of 1774, Conrad took his family and his parents to the eastern side of the mountains. Their absence from all church records in Westmoreland County for the next three years authenticates this move. No doubt Conrad visited his sister, Catherine Best and her husband William, and influenced their later move to Westmoreland County by informing them that the farm adjacent to his was to be sold the following year for back taxes. Conrad returned to Westmoreland County later that spring with supplies for his farm, his neighbors, and for Ft. Allen, which was under construction. For this return trip across the mountains, he hauled his freight in a Conestoga wagon built in Lancaster County, and by so doing, made history. To quote from the Western Pennsylvania History Magazine, Vol. VI, page 139: "These pack horses streamed over the mountains in endless cavalcades, but in 1774, Conrad Hawk drove a wagon over the mountains, and this event also marked a significant milestone in early transportation in the Monongahela river valley." Source: Kenneth Hawk Slaker
GENERATION 3
03. Michael Hawk, the last known child of Conrad and Sarah Williams Hawk, was born in Hempfield Township, Westmoreland County, Pennsylvania, on the 6th of August 1784. He was baptised on the 5th of April 1785, in the Zion Lutheran Church by Anton Lutge. His sponsors were Michael Rup and Christina Williams, the wife of Daniel Williams. Michael's mother died when he was 4 years old; therefore, he was raised by his step-mother, Elizabeth Walker Hawk, who married his father in 1789. The Federal Census of 1790 showed Michael living with his father at Hawksworth, the name of the family farm. Church records show that Michael, in his 12th year, was confirmed into the Zion Lutheran Church on the 8th of April in the year 1797. He was as communicate at the First Lutheran Church of Greensburg on the 5th of April 1801. In 1804 he married Delilah Minnie Clevenger. Michael was listed on the Hempfield Township, Westmoreland County tax roll for 1805, but did not appear on any subsequent tax rolls in this county. His name does not show in the Greensburg Lutheran Church records after 1805, which supports family history that he departed ca 1807 for Ohio. Whether his brother, Conrad Hawk Junior who made a trip to Huron, Ohio, in 1808, talked Michael into migrating to Ohio, or vice versa, Michael packed his belongings and left for Ohio. Whether he went overland, or took a boat down the Ohio, is not known, but he settled in Pickaway County, Ohio. Michael left Delilah ca 1824, and purchased a lot in Pickaway County. Michael died interstate in 1833. Delilah, not holding deed to the farm in Fayette County, filed suit to settle the ownership problem. Source: Kenneth Hawk Slaker

Note: The parentage of David is not certain due to conflicting reports from different sources. I have listed here the ancestry to Hans Jerg Hag as presented in Slaker's book.
GENERATION 4
04. David Hawk was born on September 27, 1819 in Fayette

Co., Ohio. David Married Eleanor Jones who was born October 21, 1820 in Washington County, Ohio. David was a barber. They moved to Sugar Creek Township, Hancock County, Indiana in the early 1840's. In 1851, they moved further west to Champaign County, Illinois. A land warrant was issued to David Hawk of Champaign County on the 1st of February 1853. In 1872, they moved west again, this time to Iowa. Ten years later in 1882, a final move was made to Buffalo Co., Nebraska. Eleanor died here on the 5th of September 1890. David passed away a little over eight years later on the 15th of December 1898. Both were interned in the cemetery in Kearney, Nebraska. The 10 children of David and Eleanor are:

1
James E Hawk (Born 1843 in Indiana)
2
Paul B. Hawk (Born 1845 in Indiana - Died Aug. 1859 in Illinois)
3
Mary Jane Hawk (Born on Feb 14, 1846 in Hancock, IN - Died on Aug 4, 1917
in Elm Creek, NB) Married John W. Tottersman

1. Ida Mae Tottersman (1868-1960)
2. Henry E. Tottersman (1864-?)
3. Henrietta Tottersman (1864-?)
4. Minnie E. Tottersman (1875-?) Married Lewis Gardener
4
Francis P. Hawk (Born 1849 in Indiana)
5
Elizabeth Louise Hawk (Born in 1852) Married William Chritton

1. Cassie A. Chritton
2. Carlie M Chritton
6
Joseph C Hawk (Born on Jul 1856 in Rockford, IL) Married
Maggie Murchy Reid

1. Paul Hawk (1889-1971)
2. Mary A. Hawk (1891-)
3. Nellie Eleanor Hawk (1893-)
4. Harry L Hawk (1898-)
7
Nathaniel Henry Hawk (See below)
8
Anna Hester Hawk (Born 1860 in Champaign, IL)
Married William Willie Kenison

1. Rosa Mae Kenison (1887-) Married Paul Ross
9
Nora Hawk (Born 1862 in Champaign, IL)
10
John Ira Hawk (Born on Sep 24, 1866 in Urbanna, IL - Died Apr 10, 1950
in Crawford, NB)

Married #1 Lillian M Pierce
1. Cora Hawk(1887-?)
2. Ora Hawk 1889-?) Married H.J. Blann

Married #2 Renlich Marie Ebsen
1. Bertha Lea Hawk (1897-1980)
2. Phoebe Inez Hawk (1906-1943)
3. Lester Allen Hawk (1908-1967)
4. Elmer Earnest Hawk (1913-1979)
5. Bruce Leroy Hawk (1915-1987)
6. Nellie Mae Hawk
GENERATION 5
05. Nathaniel Henry Hawk, son of David was born on June 18, 1858 in Champaign,

Illinois. In the 1860 census he is listed with his family as age 2 and at that time he was the youngest child. At some point he took up the trade of barber like his father had. Prior to his marriage, he moved to Nebraska. He married Anna Irene Jones on November 24, 1884 in Miller, Nebraska. Records of their marriage show up in the Buffalo County, Nebraska Marriages, vol. 2, page 579. They had 8 children. In the early 1900's they moved to Portales, New Mexico by covered wagon. Their 2 youngest children, Eugene and Ruth were born in New Mexico. Nathaniel died on August 12, 1944 in Orchard, WA. The 8 children of Nathaniel and Anna are:

1
Grace Myrtle Hawk (See below)
2
Bert Hawk (Born on Oct 18, 1887 in Armada, NB - Died on Jun 18, 1951)
Married Bess

1. Bonnie Hawk
2. Aubrey Hawk
3. Preston Hawk
3
Bertha Elenor Hawk (Born on Feb 08, 1891 in Armada, NB - Died on
Aug 16, 1951) Married Marion C Winkle

1. Hazel Marion Winkle
2. Everett Henry Winkle (1916-1984)

4
Guy Hawk (Born on Jan 30, 1893 in Armada, NB - Died on Sep 28, 1896
in Armada, NB)
5
Leonard Hurbert Hawk (Born on Jul 1, 1895 in Blue Ridge, TX - Died on
Dec 30, 1976, Vancouver, WA)
Married Edna Dunstrum

1. Harland Murray Hawk
2. Pierce Hawk
3. James Mill Hawk
6
Ira Ross Hawk (Born on Dec 20, 1900 in Armada, NB - Died in 1929)
7
Eugene Victor Hawk (Born on Apr 8, 1904 in Portales, NM - Died on
Jan 16, 1965 in Yakama, WA)
Married Wanda Ethyl Cox

1. Eugene Leroy Hawk (1929-1987)
2. Marjorie June Hawk
3. Donna Jean Hawk
4. Charlene Ann Hawk
5. Charles Kenneth Hawk (1941-1999)
8
Ruth Hawk (Born on Aug 12, 1910 in Portales, NM - Died on Jul 15, 1976
in Medford, OR) Married Carl Hover

1. Carolyn Hover
2. Arthur Hover
GENERATION 6
06. Grace Myrtle Hawk, the eldest daughter of Nathaniel and Anna was born on August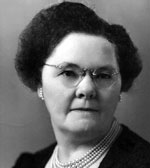 18, 1885 in Armada, Nebraska. Between 1900 and 1904 she made the journey from Nebraska to Portales, New Mexico with her family in a covered wagon. She married (1) Ernest Schwiening, son of Friedrich Schwiening and Sophia Schmull on August 5, 1903. At some point they moved to Oregon where daughter Betty was born. Ernest died on September 15, 1944. She then married (2) Frank DeKalb and lived with him until his death around 1960. She lived by herself for a number of years before moving to a nursing home in Salem, Oregon around 1974 to be closer to her daughter, Irene. I descend from their daughter Irene Schwiening who married William Marshall. The 3 children of Grace and Ernest are:

1
Walter Schwiening (Born on Sep 13, 1904 in Portales, NM - Died on
Aug 18, 1982 in Hemet, CA)
Married Blanche Marshall

1. Kenneth Schwiening (1924-abt. 1930)
2. Margaret Schwiening (1928-1988)

2
Irene Schwiening (Click Here to go to the Schwiening page).
3
Betty Pauline Schwiening (Born Sep 6, 1922 in Corvallis, OR, Died July
27, 2006 in Portland, OR) Married Wiley Powell Bowers.