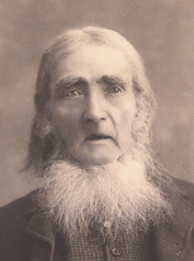 Joseph McMulin was born on September 02, 1805 in Bellaire, Belmont County, Ohio. He married Mary Young in 1824 in Belmont, Ohio. Mary was born on January 14, 1809 in Fayette County, PA and died on July 28, 1887 in Lucas County, Iowa

. Her tombstone says she died at age 80 years, 6 months and 14 days. Joseph died on Jul 25, 1893 in Iowa.



"McMULLIN (sic), JOSEPH: Farmer, section 34, p.o. Fredric, born September 2, 1805 in Belmont Co in 1838, came to Lee County, Iowa; in 1843, removed to Monroe Co., Iowa; owns sixty acres of land valued at $1,800. Married Mary Young in 1824; she was born July 13, 1809, in Pennsylvania; had ten children, eight living - Richard, Jesse, Nancy, Elizabeth, Rhoda, Mary J., Joseph E., and Eliza E.; lost William in infancy; Wilson died in 1858, aged 20 years. He was one of the three county commissioners sent to the Legislature in Iowa City in 1847, who changed the name of the county from Kishkekosh to Monroe; in making a selection for the courthouse, forty acres were run off into town lots; Mr. McMullin was chosen to drive the center stake of the quarter section where now stands the courthouse; the other two Commissioners were Moses Clark and James Bradley, both now deceased. He has been a member of the board of supervisors; has held about all the township offices. Democrat." Source: Frank Myers from "History and Directory of Albia and Monroe County, Iowa"; 1878, Page 474
The McMulin family appears on the 1850 Census

, 1860 Census

and 1870 Census

.
The 10 children of Joseph and Mary are:

1
Richard McMulin (Aug 22, 1825 in OH - Mar 11, 1911 in Sumner County, KS)


1870 Census

, 1880 Census


Married Aurilla Miller (1826-1900) on Feb 26, 1846 in Monroe County, Iowa. 8 children.
1. Joseph William (Will) McMulin (Dec 31, 1854 in Monroe, ID - Nov 17, 1915 in Encinal, TX)
Married Theresa Yeager (Jan 26, 1857 - Aug 1, 1915)
1. Salestine, 2. John 3. William 4. Ida 5. Emma



2.

Mary Miriam McMulin

(Mar 25, 1849 - Jul 8, 1938)


Married Nathaniel Newman Wood
1. William Joseph Wood (Jan 31, 1870 - Jun 13, 1945)

(never married)




2. Cora May Wood (Jun 10, 1871 - Oct 3, 1963)

Married

Robert Wood


3. Emma Josephine Wood (Jan 13, 1786 - Nov 8, 1933) Married Edgar Frank Billiter
4. Jessie Wood (Feb 13, 1880 - Jan 29, 1938)

Married

John Conver Kline


5. Clara Wood (May 20, 1882 - Jul 9, 1966)



3.

Henry Richard McMulin

(May 5, 1850 - Jan 1, 1897) Married

Laura Day


1870 Census

, 1880 Census


1. Elva McMulin
2. Walter McMulin

4. Albert McMulin (Jan 15, 1851 in IA - Feb 7, 1938 in Sumner Co., KS)


1870 Census

, 1880 Census


Married Mary Fuller (Mate) Branch on Oct 13, 1880 in Sumner Co., KS
1. Florence May McMulin (Aug 10, 1881 - )
2. Francis Marion McMulin (Oct 15, 1883 - )
3. Bessie R. McMulin (1886 - )
4. Aurilla Ruth McMulin (Oct 13, 1895 - )
5. Reva Alberta McMulin (Abt.1898 - )



5.

Eliza Jane McMulin

(Dec 28, 1856 - Aug 22, 1914) Married

Jesse Sietz

:

1870 Census





6.

Wilson Jeremiah McMulin

(Jan 4, 1859 in Lucas Co., IA - May 4, 1951 in Wellington, KS)




1870 Census

, 1880 Census




Married Anna Laura Hill (1868-1955)
1. Lola Enola McMulin (Jan 8, 1898 - Aug 18, 1984) Married Bryson Phillippi
1. Richard Phillippi (Dec 8, 1925 - Apr 20, 1989)
2. Eva McMulin (Jan 4, 1888 in Sumner, KS - Nov 20, 1898 in Sumner, KS)
3. Glenn McMulin (Oct 26, 1894 in Sumner, KS - Oct 11, 1962 in Wellington, KS)

7. Emma Lee McMulin (Nov 5, 1866 in Lucas County, IA - Mar 4, 1945 in Garfield Co., OK)


1870 Census

, 1880 Census




Married

William H. Day


1. Roy Day
2. Earl Day
3. Kim Day



8.

Elizabeth McMulin (Mar 15, 1868 in Lucas Co., IA - Mar 10, 1946 in Sumner Co., KS)


1870 Census

, 1880 Census




Married

Frank A. Crippen




1. Elsie Crippen

2
Jesse McMulin (Apr 15, 1827 in Belmont County, OH - Feb 24, 1897 in Maryville, MS)


1860 Census


Married (1) Hannah Renfro on March 11, 1947
Married (2) Sarah Howell on Aug 20, 1856 in Monroe County, Iowa.


1.

Sarah Hannah McMulin

(Mar 12, 1858 in Lucas Co., IA - Apr 16, 1948 in Lucas Co., IA :

1860 Census


2. Lydia R. McMulin (Abt 1860 in Lucas Co., IA - )
3. Mary E. McMulin (Abt 1863 in Lucas Co., IA - )
4. James William McMulin (Abt 1865 in Lucas Co., IA - )
5. Richard M. McMulin (Abt 1868 in Lucas Co., IA - )
6. Nancy McMulin (Abt 1870 in Lucas Co., IA - )
7. Joseph Heed McMulin (Mar 8, 1871 in Lucas Co., IA - Dec 1, 1947 in Hopkins, MS)
8. Adda M. McMulin (May 1, 1876 in Lucas Co., IA - Mar 20, 1955 in St. Joseph, MS)
9. Jesse O. McMulin (Sep 14, 1881 in Lucas Co., IA - )
3
Nancy McMulin (Mar 22, 1829 in Belmont County, OH - Jan 21, 1911 in Pleasant Township, Monroe Co., IA)


On 1850 Census

as "Hannah"


Married (1) William Crewse on Oct 19, 1850 in Monroe County, IA.
Married (2) Marion Moss on Apr 8, 1855 in Monroe County, Iowa.


1.

Joseph Wilson Moss (Oct 1, 1856 in Monroe County, IA - Mar 17, 1926 in Avery, IA)
Married Mary E. Ellison on Nov 29, 1881 - 6 children
2. Sara Jane Moss (Aug 20, 1859 in Monroe County, IA - May 5, 1947 in Monroe County, IA)
Married (1) Francis Perry Miller
Married (2) Joseph Himelick on Sep 24, 1889 - 2 children
3. David Crewse Moss (Oct 2, 1861 in Monroe County, IA - Aug 3, 1943 in Wichita, KS)
Married Lovina Alice Glass on Feb 14, 1882 - 6 children
4. Elizabeth Lydia Moss (Aug 9, 1864 in Monroe County, IA - Sep 12, 1944)
5. Henry Clay Moss (Jul 11, 1868 in Monroe County, IA - )
6. Flora Emma Moss (Oct 9, 1871 in Monroe County, IA - )
4
Elizabeth McMulin (Jan 8, 1831 in Belmont County, OH - Nov 23, 1900 in English Township, Lucas, IA)
Married Jeremiah Miller (1822-1894) on Sep 06, 1849 in Monroe County, Iowa.


1.

William Owen Miller (Jun 25, 1850 in Monroe County, IA - Nov 30, 1922 in Cheyenne WY)
Married (1) Elizabeth Vickroy (Abt. 1848-1890) on Jan 1, 1874 in Lucas Co., IA
1. Calperna Miller (Oct 1876 - Apr 1954) Married (1) Gus Soderstrom - 2 children; Married (2) O.H. James - 7 children
Married (2) Gaybrella "Gay" Webb

(1873-1949)

on Nov 10, 1890 in Lucas Co., IA
1. Nellie Miller (Sep 3, 1891 - March 1976) Married Joseph Crowe - 7 children
2. Gertrude Elizabeth Miller (Mar 1, 1894 - ) Married Harly Clare Hawk
3. Infant Miller (Abt Jul 1896 - Abt Jul 1896)

2. Mary Cynthia Miller (Oct 19, 1851 in Monroe County, IA - Oct 24, 1863 in Monroe County, IA) - died young

3. Joseph Cyrus Miller (Mar 7, 1853 in Monroe County, IA - Nov 15, 1895 in Lucas Co, IA)
Married Mary Elizabeth Clair (1855-1933) on Jan 21, 1875 - 9 children
1. William Ambrose Miller (Nov 12, 1875 in Lucas Co., IA - Feb 26, 1969 in Chariton, Lucas Co., IA)
Married Jessie Frances Brown (1875-1945) on Jul 3, 1905
1. Joseph Edwin Miller (Apr 10, 1906 - May 11, 2000)
2. Loren Owen Miller (Oct 17, 1907 - Sep 16, 2000)
3. Olive Mae Miller (Aug 26, 1909 - Jun 21, 1998)
4. Mary Ellen Miller (Feb 17, 1911- Apr 21, 1994)
5. William Ambrose Miller (Nov 6, 1912 - Dec 23, 1912)
6. Reefa Leone Miller (Jun 6, 1915 - Sep 3, 1999)
7. Richard Lloyd Miller (Aug 18, 1917 - Sep 27, 1999)
2. Elizabeth Mary Miller (1877-1966)
Married Albert Ray Mason (1876-1951) on Sep 4, 1901
1. Herbert Ustel Mason (Sep 23, 1902 - Jan 7, 1974)
2. Ariel Ruth Mason (Feb 26, 1904 - May 2, 1942)
3. Erma Marie Mason (Oct 31, 1906 - Dec 4, 2000)
4. Eleanor Pearl Mason (Aug 17, 1908 - Mar 29, 1997)
5. Ray Elijah Mason (Mar 24, 1915 - Jun 7, 2007)
3. Dora Emma Miller (1879-1950)
Married Harvey M. Taylor (1881-1947) on Jan 26, 1904
1. Thomas Franklin Taylor (Aug 21, 1904 - Dec 6, 1978)
2. Robert Anthony Taylor (Oct 4, 1906 - Mar 23, 1989)
3. Marjorie Ellen Taylor (Dec 24, 1913 - Aug 3, 1990)
4. Rebecca Marie Taylor (Sep 1, 1917 - Mar 29, 1969)
4. Adda Miller (1882-1946)
Married Orie Dell Dachenbach (1886-1962) on May 30, 1905 - 5 children
5. Cynthia Miller (1884-1984)
Married Charles Oscar Abrahamson (1876-1960) on Feb 28, 1906 - 6 children
6. James Clair Miller (1888-1962)
Married Vesta Myrtle Brenaman (1890-1977) on Oct 20, 1909 - 5 children
7. Easter Miller (1890-1978)
Married Frank Merlon Brenaman (1882-1959) on May 13, 1908 - 4 children
8. Jeremiah Miller (1892-1986)
Married Fern Alice Griffis (1898-1933) on Jun 4, 1919 - 4 children
9. Infant Miller (1895-1895)

4. Miriam Jane Miller (Jan 16, 1855 in Monroe County, IA - Mar 25, 1855 in Monroe County, IA) - died young
5. Eliza Elizabeth Miller (Apr 12, 1856 in Monroe County, IA - May 15, 1863 in Monroe County, IA) - died young

6. Richard Miller (Apr 28, 1858 in Monroe County, IA - May 13, 1931 near Walnut, KS)
Married Laura E. Howard (1862-1926) on Mar 10, 1891
1. Howard Miller (Sep 22, 1892 - )
2. Donald Miller (Aug 1893 - )

7. Harvey James Miller (Apr 11, 1861 in Monroe County, IA - Feb 20, 1933 in Garden Grove, CA)

:

1880 Census


Married Mary Elizabeth Alice Shore (1860-1935) on Sep 5, 1880 - 5 children
1. Vinna E. Miller (1881-1881)
2. Delbert Jeremiah Miller (1883-1960)
3. Gerial Need Miller (1885-1950)
4. Clarence Harry Miller (1887-1906)
5. Denia Alice Miller (1893-1942)

8. Harriet Clara Miller (Jul 7, 1863 in Monroe County, IA - Apr 24, 1864 in Monroe County, IA) - died young

9. Gerial Trescott Miller (Aug 13, 1865 in Monroe County, IA - Dec 2, 1932 in Lucas, IA) :

1880 Census


Married Sarah Tabitha Carson (1865-1949) on Mar 1, 1896
1. Chester A. Miller (1897-1989)
2. Blanche Myree Miller (1900-1990)

10. Harry Miller (May 18, 1870 in Lucas, IA - Jan 4, 1927 in Lucas, IA)

:

1880 Census




Married

Carrie Ellen Willouby

(1870-1949)

on Feb 11, 1891
1. Jessie Pearl Miller (1891-1936)
2. Elsie Myrle Miller (1897-1928)
5

Rhoda McMulin

(See Below)
6
William McMulin (Abt. 1835 - died as an infant)
7
Wilson McMulin (Mar 14 1837 - Died Jan 28, 1857 in Monroe County, Iowa) age 19


Appears on 1850 Census

as "William"

8
Mary Jane McMulin (Sep 02, 1841 in Richland County, OH - Apr 30, 1918 in Chanute, Neosho Co., KS)
1850 Census

, 1880 Census


Married William M. Sheler on Dec 02, 1858 in Chariton, Iowa.


1.

Joseph John Sheler (Nov 19, 1861 in Lucas Co., IA - Jan 12, 1921 in Thayer, Neosho Co., KS)


1880 Census


Married Laura Anderson on May 24, 1883


2.

Richard Willer Sheler (Mar 8, 1864 in Chariton, IA - )


1880 Census

,

1900 Census

, 1930 Census , 1940 Census
Married Ada E. Anderson on Sep 11, 1883
1. Amy Elizabeth Sheler (Jul 1, 1884 in Stone Co., MO - Dec 2, 1967 in Chanute, KS) : 1900 Census
2. Minnie Sheler (1886 - 1980 in Chanute, KS) : 1900 Census


3.

Margaret Ivabelle Sheler (Jan 16, 1866 in Keokuk, IA - Mar 7, 1938)


1880 Census


Married James F. Anderson on Sep 30, 1884 in Springfield, MO
1. Mattie Alice Anderson (Jul 25, 1885 - )
2. Nannie May Anderson (1889 - )


4.

Nancy Melissa Sheler (Nov 17, 1868 in Keokuk, IA - Feb 1, 1952)


1880 Census

,

1930 Census


Married John Franklin McWilliams (Abt. 1862 in MS - ) on Feb 22, 1891 in Stone Co., MO
1. Mary A. McWilliams (Aug 7, 1891 - Oct 29, 1892)
2. Margaret McWilliams (Jun 24, 1894 - Mar 25, 1975)
Married Furn W. Steinman
1. Earl Martin Steinman (Mar 25, 1913 - Apr 6, 1913)
2. Alpha Juanita Steinman


5.

Mattie Esther Sheler (Nov 8, 1870 - Jul 25, 1953)


1880 Census

,

1910 Census


Married Chester W. Howard on Jul 18, 1895
1. Harold F. Howard (Feb 3, 1900 - Sep 17, 1952) : 1910 Census


2. Helen M. Howard : 1910 Census

9
Joseph Ezra McMulin (Jan 29, 1844 in Pleasant Township, Monroe Co., IA - Jan 29, 1889 in IA)


1850 Census

,

1860 Census


Married Sophia Cabot Severn on Apr 10, 1866 in Lucas County, Iowa.


1.

Clarence B. McMulin (Feb 20, 1867 in Monroe County, IA - Apr 23, 1867 in Monroe County, IA)
2. Jerry W. McMulin (May 28, 1868 in Monroe County, IA - Jun 16, 1870 in Monroe County, IA)
3. Joseph McMulin

(Jan 22, 1870 in Monroe County, IA - Aug 8, 1946 in Monroe County, IA)


Married Anniss "Annie" Anderson (Jun 5, 1886 - Sep 1973)
1940 Census
4. Mary E. McMulin

(Mar 29, 1872 in Wellington, KS - Apr 13, 1901 in Monroe County, IA)


Married Elisha David Cook (Feb 22, 1861 - Feb 9, 1939)

on Apr 1, 1892
1900 Census
1. Vesta Mae Cook (Apr 9, 1894 in IA - Sep 26, 1953 in Wenatchee, WA) : 1900 Census


Married Alphonse "Potto" Guerin (Sep 22, 1885 - Dec 20, 1933)




1. Jeanette Anna Guerin (Dec 6, 1920 in MN - Dec 11, 2008 in Wenatchee, WA)




Married William Leroy Jones (Apr 12, 1920 - Jan 5, 2001)




2. Frank Vincent Cook (Jun 27, 1896 in

IA - Feb 26, 1961 in IA)

:

1900 Census
Married Anna Beulah Rodabaugh (Jan 10, 1901 - Dec 26, 1987)
1. Lawrence Ezra Cook (Jan 17, 1921 in IA - Feb 16, 1993 in IA)
2. Galen Paul Cook (Jul 3, 1922 in IA - May 18, 2013 in IA)

5. Carrie E. McMulin

(Jan 9, 1875 in Wellington, KS - Jul 1941 in Monroe County, IA)


Married William Francis Geyer (Nov 24, 1875 - 1937) in 1899


1900 Census

, 1910 Census

, 1930 Census




1. Richard E Geyer (1899 - 1986)

:

1900 Census

, 1910 Census

,

1930 Census




3.

Marie F Geyer (Abt 1902 - ) :

1910 Census


4. Paul L Geyer (Abt 1904 - ) :

1910 Census

, 1930 Census




5. Joseph Geyer (1906 - 1907)




6. Will A Geyer (Abt 1911 - ) :

1930 Census



6. Arthur Roy McMulin

(Mar 28, 1877 in Wellington, KS - Feb 6, 1960 in Monroe County, IA)


Married Grace Ellen Shupe (Jan 17, 1880 - Mar 25, 1955) on Dec 25, 1899




1920 Census

, 1925 State Census

, 1940 Census


1. Clarence McMulin (Abt. 1902 in IA - )

: 1920 Census

, 1925 State Census

, 1940 Census


2. Melissa McMulin (Abt. 1903 in IA - )

: 1920 Census

, 1925 State Census


3. Sarah McMulin (Abt. 1905 in IA - )

: 1920 Census

, 1925 State Census


4. Linnie McMulin (Abt. 1907 in IA - )

: 1920 Census

, 1925 State Census


5. Raymond McMulin (Abt. 1909 in IA - )

: 1920 Census

, 1925 State Census


6. Marion McMulin (Abt. 1912 in IA - )

: 1920 Census

, 1925 State Census


7. Ermal McMulin (Abt. 1915 in IA - )

: 1920 Census

, 1925 State Census


8. Icle McMulin (Abt. 1919 in IA - )

: 1920 Census

, 1925 State Census



7. Nancy McMulin

(Apr 22, 1879 in Wellington, KS - Aug 27, 1949 in Des Moines, IA)


Married Andrew Burrell (Sep 17, 1873 - Dec 29, 1952) in 1897


1900 Census

,

1930 Census

,

1940 Census



8. Eliza Melissa McMulin

(Dec 14, 1881 in Monroe County, IA - Jan 17, 1947 in Monroe County, IA)


Married Frank Kirkham Morris (Jan 17, 1867 - May 1953)

in 1906




1930 Census

,

1940 Census



9. Florence McMulin

(Feb 27, 1884 in Monroe County, IA - Mar 22, 1949 in Monroe County, IA)


Married Rev. Elmer S Fouts (-1971) in 1912


1920 Census

, 1940 Census



10. Jesse Almira McMulin

(Jun 6, 1887 in Monroe County, IA - May 9, 1923 in Idaho)




1910 Census

, 1920 Census


Married Chancie Thomas Doramus (Dec 26, 1886 - Sep 4, 1986)

on Dec 25, 1909
1. Joe M Doramus (Abt 1911 in KS - ) : 1920 Census


2. Arthur P Doramus (Abt 1913 in KS - ) :

1920 Census
3. Paul S Doramus (Abt 1916 in ID - ) : 1920 Census


4. Ray R Doramus (Abt 1918 in KS - ) :

1920 Census


5. Sophia H Doramus (Abt 1920 in KS - ) :

1920 Census

10
Eliza Emily McMulin (Apr 30, 1846 in Pleasant Township, Monroe Co., IA - May 4, 1929 in Wichita, KS)
1850 Census

,

1860 Census

,

1870 Census

1880 Census

,

1900 Census

,

1910 Census

1920 Census


Married Henry A. Cole on May 12, 1873 in Sumner County, Kansas.

1. Mary Lucinda Cole

(Apr 9, 1874 in Albia, Monroe Co., IA - Jun 4, 1943 in Wichita, KS)




1880 Census

, 1900 Census

, 1910 Census

, 1920 Census


Married Horace Greely Mann (1869 - Jan 12, 1947 in KS)

on Mar 30, 1898 in Wellington, KS
1. Hattie Mann (Abt. 1899 in KS - ) :

1900 Census

, 1910 Census




2. Walter Irvin Mann (Mar 10, 1900 in KS - Jul 28, 1958 in KS)




1900 Census

, 1910 Census

, 1920 Census


Married Bertha I Warfield (Oct 27, 1901 - Mar 25, 1987)


1. Walter Irvin Mann, Jr. (May 15, 1922 in Wichita, KS - Oct 27, 2006 in Wichita, KS)




Married Edith Mary Vytlacil (May 20, 1925 - Oct 29, 2001)


Children: Bill, Fred, Jack, Stan, John and Kathy

3. Henry Mann (Abt. 1902 in KS - ) :

1910 Census

, 1920 Census




4. Corra Mann (Abt. 1905 in KS - ) :

1910 Census

, 1920 Census



2. Joseph Garrett Cole

(Jun 4, 1879 in Conway Springs, KS - May 9, 1962 in Wichita, KS)




1880 Census

,

1910 Census


Married Annis Moore (Jul 15, 1878 - Apr 12, 1960)

on Apr 3, 1898 in Conway Springs, KS
1. Eldo Cole (Dec 18, 1898 in KS - Dec 21, 1986)

: 1910 Census




2. Earl Cole (Abt. 1900 in KS - ) : 1910 Census




3. Roy Cole (Abt. 1902 in KS - ) : 1910 Census




4. Charlie J. Cole (Sep 21, 1904 in KS - May 24, 1998)

: 1910 Census




5. Raymond Cole (Abt. 1906 in KS - ) : 1910 Census




6. Samuel H. Cole (Abt. 1908 in KS - ) : 1910 Census

, 1940 Census


Married Ethyl
1. Henry S. Cole (Abt. 1936 in Arkansas - ) :

1940 Census




7. Goldie Marie Cole (Nov 22, 1909 in KS - Jun 19, 1910)

: 1910 Census



3. Grace Jane Cole (Mar 14, 1887 in Conway Springs, KS - Dec 26, 1962 in Wichita, KS)
1900 Census

, 1910 Census

, 1920 Census


Married Lorin L. Mathis on Nov 11, 1908 in Wichita, KS
1. Ruth Mathis